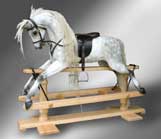 National Rocking Horses UK, traditional rocking horse maker restorer with workshops in South-West, North-West and South-East England is part of Kensington Rocking Horse Company, world-leading traditional wooden rocking horse makers. Hand-carved traditional rocking horses for child or adult include the Victorian-style dapple grey. Handmade rocking horses for sale include superb smaller children's wooden rocking horses and wooden-framed plush rocking horses for children.
Rocking horse restoration and rocking horse repair is provided by top rocking horse restorers throughout the UK.


'The traditional wooden rocking horse is enjoying a revival, as parents and grandparents identify both its play- and investment value. The joy of a classic, traditional 'antique' dapple-grey rocking horse is timeless and hand-carving and skilled craftsmanship makes a wooden rocking horse the finest family heirloom and future antique.

As The Kensington Rocking Horse Company groups top English rocking horse makers and rocking horse restorers in one stable, you can choose from some of the finest wooden rocking horses, handmade by top UK rocking horse makers. Their skilled craftsmanship is underlined by the use of genuine horsehair, leather tack and the finest sustainable hardwoods.
The repairs and restoration of your antique rocking horse will be undertaken by an expert rocking horse restorer.