Possibly the world's finest wooden rocking horse for toddlers and young children, this little horse has been welcomed into dozens of British homes, has already won an award as Europe's best rocking horse, has featured on Japanese TV and has wooed children, parents and grand-parents all over the U.S.
This superb little rocking horse was born from a lengthy project to create a wooden rocking horse of heirloom quality, but at an affordable price. Europe's favourite rocking horse is crafted from solid beech wooden, and then sanded and varnished to a smooth and safe finish.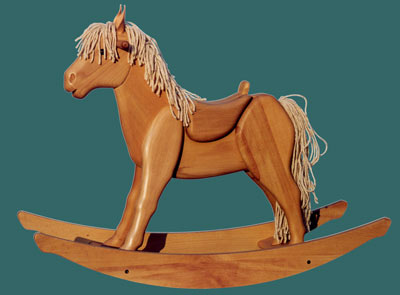 Europe's favourite rocking horse is just over 1 meter (40") long and has a saddle height of 50cm (19"). This size was calculated as the optimum size for the younger child. It comes into its own once toddlers become self-reliant, but it is often bought as a present for a first birthday, a first Christmas, a Christening or a naming day.
The mane and tail are made from pure new wool and the ears are genuine leather. To add to the fun, the range of optional extras includes a leather saddle and bridle, a blanket, a grooming brush and a rosette.
Note: For added safety and an extra boost for the energetic young rider, the rocking horse does include a footrest which is not shown in the photographs.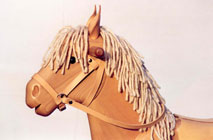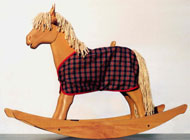 Recent customer comments about "Europe's Favourite Rocking Horse":
"She's gorgeous"
"He's gorgeous"
"It's gorgeous"
Decide for yourself!

In the UK. the rocking horse costs only £299 (plus P&P if ordering by post).
The saddle and bridle cost £50 together.
The little rocking horse blanket, rosette and grooming brush cost £20.


American and international rocking horse buyers, please e-mail your location to welcome@kensington-rocking-horses.co.uk
and we will be pleased to quote a delivered price and delivery time.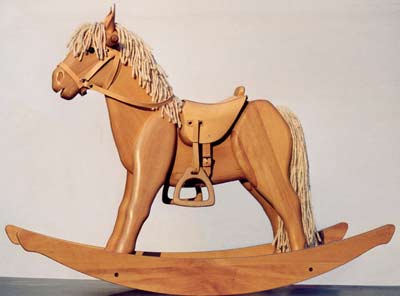 Some more customer comments......
"We're delighted! Thanks very much indeed. She/he/it is certainly gorgeous!"
Kate - London
"Your rocking horse arrived safe and sound and with a smile on his face.
He is absolutely beautiful and will grace our family for many generations to come!"
Beth - New Jersey

"The rocking horse arrived in perfect condition, is put together and tacked up ready to ride. It is exactly the horse I had in mind when I first thought of the idea. Many thanks for all your help."
Vallie - Minnesota
"Everything worked out perfectly and the rocking horse was a lovely surprise for Jo. I am so glad that I chose this horse. Thank you so much for all your help."
Debbie - San Diego, California
"Kelly adores her rocking horse and just can not stop smiling at him!
Thank you very much indeed for the friendly and efficient service."
Margaret - Edinburgh
"She is gorgeous (she's definitely a girl!) I can't believe how lovely she is!!
Baby hasn't arrived yet, so she (the rocking horse) is still in my house hiding!!"
Emma - Hampshire